Going Green with Glamour at Guatemala's Lake Atitlan
Note: This post may contain affiliate links. If you choose to book through these links, I receive a small commission, which I will undoubtedly blow on more flights (it's a vicious cycle). All of this internet voodoo takes place at no additional cost to you.
One of Central America's most physically diverse countries, Guatemala is bordered by Mexico, Belize, El Salvador and Honduras and has both Pacific and Caribbean coasts. The country is home to 37 volcanoes, including the highest in Central America – Tajumulco at 4,200 meters.
Nearly a mile up in Guatemala's Central Highlands, silvery Lake Atitlan is a natural work of art framed by three massive conical volcanoes.
Lined with small Mayan villages, the sparkling lake is one of country's three major tourist attractions (the others being Tikal and Antigua).
Scientists debate the precise nature of Lake Atitlan's creation but it was likely the result of a significant volcanic eruption violent enough to create a huge cavity 1,000ft deep and 11 miles in diameter.
Today, volcanoes Atitlan, Toliman and San Pedro circle the lake's more than 95 square miles of surface area. While Toliman and San Pedro are inactive, Atitlan is still marginally active – though its last violent eruption dates back to 1853.
Atitlan means literally "at the water" and the lake has long been considered one of the world's most beautiful, compared frequently with the likes of Italy's Lake Como and Slovenia's Lake Bled.
Brave New World author, Aldous Huxley, once called it, "…Como with the additional embellishments of several immense volcanoes."
But First, a Little Business
I arrived in Guatemala with a job to do. I'd be spending two nights at the luxuriously eco-friendly Laguna Lodge on Lake Atitlan to review it for my friend Jill's UK travel website. Thanks to Jill, I'd also picked up an additional assignment, another review of the property for Jetsetter.com.
I'd been drooling over photos of the lodge online for weeks and I was definitely looking forward to seeing it in person.
Guatemala City to Lake Atitlan
After the short flight from El Salvador and (for once) a speedy exit through immigration, I emerged from the airport and found my driver, Pedro, patiently waiting.
Getting to Laguna Lodge is a bit of an adventure in itself.
Though just 80 miles west of Guatemala City, Pedro said the drive could take anywhere from 2 ½ to 3 ½ hours depending on traffic. Considering it was Friday afternoon and rapidly approaching rush hour, I was just hoping to make it in 3 hours and get my first look at the lodge before dark.
But, alas, it was not to be. Traffic getting out of the city was terrible and the trip was a full, stop-and-go 3 ½ hours, the last 90 minutes of which are on a curvy mountain road.
(Note to those with motion sickness issues: Take something before this drive. I've never been prone to sea or motion sickness but let's just say the last hour of the drive was not one I particularly enjoyed.)
After witnessing what might have been the best sunset I've seen yet on this trip…from the car, unfortunately, we blessedly arrived at the dock in the village of Panajachel just after dark.
Arriving at Lake Atitlan
There are no roads to Laguna Lodge, access is exclusively by boat. Pedro had called the lodge from the road so the boat was ready and waiting to take me across the lake when we pulled up.
The water was calm and the 20-minute ride was silent in the darkness. I could just barely make out the twin peaks of the volcanoes in the moonlight.
I could see no lights ahead and was just beginning to wonder how far the lodge actually was when we came around the bend and the golden, twinkling lights of the palapa-style, palm-fringed lodge finally came into view.
I was awestruck. I felt a little like a contestant on Survivor arriving at tribal council. All I was missing was my flaming torch.
During the ride it started to rain a little but I didn't notice until we pulled up to the lodge's dock and the manager, Juan, was waiting for me with an umbrella. I was offered a welcome drink of freshly pressed organic fruit juice and then Juan showed me to my suite (the Jaguar Suite).
I'm fairly certain that during the next few minutes he proceeded to carefully explain all of the suite's features, but the minute he opened the door I stopped listening because the room was so uniquely gorgeous that it took me a few minutes to fully process it.
Picture this: High, beamed ceiling with a magnificent wrought-iron chandelier, a four-poster bed with 1,000 thread count sheets, artisan ceramic sinks in the bathroom, dark wood antique furnishings with bold splashes of color from locally woven fabrics.
And the piece de resistance, wide glass doors sliding open to reveal a spacious balcony with the kind of dramatically serene view that should be painted on canvas…if one were so inclined.
It was so spectacular I didn't want to leave it but when Juan mentioned the menu for dinner in the restaurant, I remembered that I hadn't eaten since a questionable sandwich on the airplane 8 hours ago. And I was definitely eager to try out the menu in the gourmet, meat-free restaurant.
But, before I move on…a little background on Laguna Lodge.
Eco-Friendly Luxury at Laguna Lodge
Opened in 1998, Laguna Lodge is quite literally a labor of love for owners Mayah (a Kiwi) and Jeffro (an Aussie). After buying a small piece of property in the area in 1990, psychiatric nurse Maya met carpenter Jeffro when he traveled through town in 1997 and the rest is now eco-history.
The idea of the lodge was later born of their long-term commitment to the local community, preserving the natural environment and sustainable living. It was not built intentionally as an eco-lodge but simply as a natural extension of the small footprint of their lifestyle.
Nestled in its own private 100-acre nature reserve, the lodge was constructed by Jeffro and his indigenous crew entirely of local volcanic stone, adobe, wood and palm. Six suites feature lakefront volcanic views, plush locally-crafted art and furnishings and uber-green amenities.
The meat-free restaurant serves creative gourmet cuisine straight from the lodge's own organic garden. Solar panels line the roof keeping the lodge "off the grid" as often as the sunshine will allow. Rain and lake water is painstakingly filtered for drinking water.
Natural fruit extracts are used for pest control but if you do spot a bug you don't like (I never saw a single one in my room), staff will happily "re-locate" it for you. It seems all animals are sacred here at Laguna Lodge.
But the real focus is on community involvement. The lodge employs 100% indigenous staff (including manager, Juan), none of whom had hotel backgrounds. Mayah and Jeffro have simply trained them at each position. A strong work ethic is ingrained in the local community as a way of life and Mayah firmly believes that when you have that, anything else can be taught.
I could spend a full day listing all of the lodge's eco-credentials but for the sake of expediency, I'll move on. (If you're curious, check out the "conservation" tab on their website.
Still dreaming about the 1,000 thread-count sheets awaiting me back in my suite, I walked downstairs to the restaurant for dinner.
The four-course dinner menu featuring an entrée of crusted eggplant filled with sweet pepper, onion, basil, ricotta and parmesan and followed by a delightful Kahlua chocolate mousse was so fresh and flavorful that I barely even noticed it was meat-free.
After dinner I retired to my balcony with a glass of wine and a book just willing the sun to come up so I could finally appreciate the view in daylight. I gave in to fatigue around 11pm and went to bed. I was soothed into dreamland by the gentle lapping of the lake and the occasional rustling of the palms in the wind.
That night, I slept the kind of deep sleep you can only achieve in a TV-less room filled with cool breezes off a volcano-ringed lake.
Things to do on Lake Atitlan
When my eyes opened for the first time the next morning around 5am the sunrise view did not disappoint. From the comfort of my bed, I was staring straight out at a giant volcano highlighted against a swirling pink sky. Magnificent.
There was really no going back to sleep after that so I slipped out of bed and reconvened out on the balcony with my camera to watch the rest of the sunrise.
Later, I headed downstairs for breakfast and to chat with Juan about my sightseeing options for the day. Mayah and I had been emailing for the past few weeks and I'd be joining her and Jeffro later that evening for drinks but she sent me a message suggesting a visit to the village of Santiago.
Since a visit to the village is one of the top things to do in the area, that sounded like a perfect plan. Juan arranged for the boat (boats are arranged on your schedule, not theirs) and I left the hotel around 10am to make the trip directly across the lake to Santiago.
The Village of Santiago
The largest of the lakeside communities and principal population center of the Tz'utujils, Santiago was founded in 1547 and has a population of more than 32,000 (about 95% indigenous). Located at the foot of Volcano Toliman, the town rests on an embankment of broken lava.
It's traditionally a fishing and farming community with coffee and tomatoes as the most important crops. The town is also well-known for its artisans who specialize in oil paintings, woodwork, and weavings. Weavings incorporate the colors and distinct designs of the town (in Santiago that's white and purple-striped) and are reflected in both the men's and women's traditional clothing.
When my boat docked in Santiago, I was immediately (of course) approached by enterprising entrepreneurs looking to guide me around for a small fee. One of them was a kid around 10 years old who spoke perfect English. His name was also Juan (for the purposes of this story, we shall call him "Little Juan" – though I suspect he would hate that).
He seemed like a good kid and was the only one around that appeared to speak English so I retained Little Juan's services for a reasonable fee and we were on our way to explore the village.
Santiago has two main sights. A Franciscan-built ( in 1568) Catholic Church named for Saint James the Apostle overlooking the main plaza and an interesting religious-type figure known as Maximon. Little Juan suggested starting with Maximon so he hired us a tuk-tuk (yes, like Southeast Asia, Guatemala is lousy with tuk-tuks) and we were off.
Next thing I knew, we were out of the tuk-tuk and winding our way through a back alley to…someone's house? I'm not sure. We entered a hazy, incense-saturated room with rows of candles on the floor and a shaman performing a continuous ceremony to a group of men and one carved, wooden figure in full village dress smoking a cigar (swear to God).
Just as I'm beginning to wonder if Little Juan has sold me into a cult, he explains that this is Maximon, a quasi-deity figure revered by the villagers who regularly visit him bearing gifts of liquor and cigars (which are considered important accessories to his dress).
It was interesting, but I'm still not entirely sure what I was watching.
What I do know for sure is that I've never seen anything else quite like it…oh, and that I paid $3 to take a picture of it (how do you not take a picture of that?).
Next, we visited the church which was standing room only during a service in progress. The interior of the church was beautifully ornate but I really enjoyed seeing all of the townspeople in their colorful traditional garments.
After watching the service for a bit, I decided to pay Little Juan and cut him loose for the rest of the day, free to pick up another blonde American tourist who doesn't even know she needs him yet.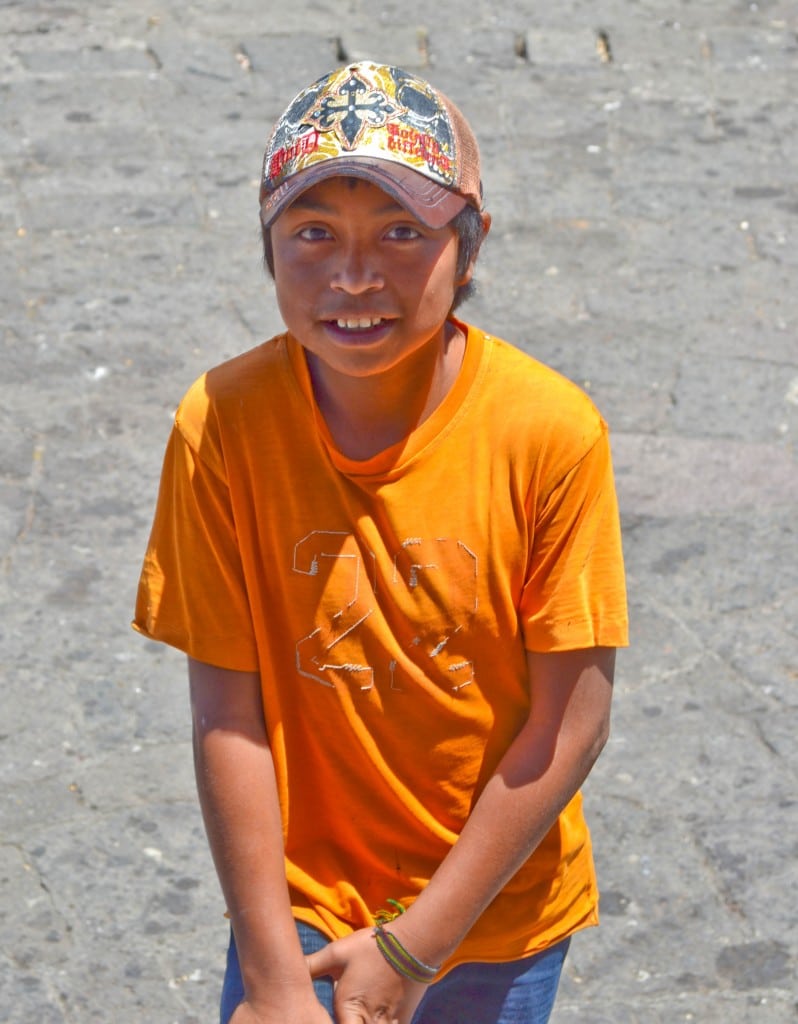 At this point I was walking distance from the dock and wanted to wind my way through the market stalls and do a little shopping. It was a gorgeous sunny day and I was thrilled to be getting some great pictures. After strolling around for a while, I headed back to the dock for the trip back to the lodge.
As often happens on Lake Atitlan, the afternoon winds had picked up significantly making the ride back across the lake quite a bone-rattling adventure. But we arrived back at eco-paradise in one piece.
After lunch, I retired back to my balcony to start compiling my notes and figure out what questions I needed to ask Mayah and Jeffro that evening.
We met for drinks in the rooftop lounge and talked for hours before ultimately heading to the restaurant to continue our chat over dinner. Between the three of us, there were lots of travel tales to tell. Both Mayah and Jeffro backpacked extensively all over the world before they met and settled here so we shared some war stories and had a very enjoyable evening.
It was great to meet them both and it's inherently obvious just how much they love this place, their staff and the entire community. Honestly, it's not like staying at a hotel at all. It's more like staying at Mayah and Jeffro's home…their really, really nice home.
The next morning, I had breakfast served on my balcony (because you can here at Laguna Lodge, there's no extra charge for room service). Then, at Maya and Jeffro's urging, I took a hike through the private nature reserve, one of the most unique features of the lodge.
There are several trails but, since time was short, I chose the shorter trail that goes up to a hilltop palapa perched on the edge of the lake. There are two hammocks up there and it's the perfect place to soak in views of the lake and volcanoes as far as the eye can see.
Spa Treatments at Laguna Lodge
After my hike, it was time to put my travel writer hat back on and dutifully check out the spa (I'm nothing if not thorough). Mayah had suggested their signature Mayan Foot Treatment performed by therapist, Marta, who I learned the night before had been hired when she showed up at their home one day looking for work.
They tried her out in various positions helping out around the lodge before discovering her talent at massage. You see, Marta had developed her technique from years of relieving her mother's sore shoulders from heavy lifting (carrying large stacks of firewood is something everyone does here).
After training her in other massage techniques like Balinese and Swedish, they developed her signature treatment. It's a 30-minute combination of an Aveda Caribbean sugar cane scrub and massage with Suki organic bergamot oil, followed by peppermint foot lotion. 
By the time it was over, my feet were in such a relaxed state they immediately threatened to take the rest of the day off & motioned to the hammock. Thanks, Marta, I needed that!
Sadly, after wrapping up some final interview questions over lunch, it was time to leave and make the long drive back to Guatemala City. Mayah, Jeffro and Juan saw me off in the boat and it was literally heartbreaking to leave this incredible place that, from the minute I arrived, felt like home.
I can't thank them and the rest of the staff at Laguna Lodge enough for an amazing weekend at one of the most uniquely charming and beautiful places I've ever had the pleasure to visit.
I imagine I'll be seeing that spectacular view in my dreams for some time to come.
Next stop, Nicaragua!
Disclosure: Two nights accommodation provided courtesy of Laguna Lodge.